How to Use Your Makeup Brushes Like a Pro
How to use makeup brushes, the types of makeup brushes and brushes professional names can be confusing. MODE DION Makeup Brush Sets have all the brush types you need for the perfect makeup application with the name of the brush and it's use right on the handle to make it easy. These six piece brush kits come in a fold out envelope with plenty of room to hold additional tools and pencils. They are made in the USA from top quality hair, cruelty-free and hand tied for durability and years of enjoyment. See below for Limited 8 Piece Brush Kit Special steps.
Here is how to use and care for your makeup brushes:
Eye brushes:
Step 1. Define brush: This angled brush is used to apply the deepest color shadow in the outer corner blending ½ way into the lid stopping just above the eye crease at the outer corner.  If you have smaller eyes or very little lid showing only go a ¼ onto the lid and 3/4 of the way across the crease.
Step 2. Balance brush: A soft rounded brush used to brighten the eyes on the eye bone above the crease. Blend the middle or brighter shadow shade across the eye bone just above the crease. Blend 3/4 of the way in.
Step 3. Highlight brush: Designed to highlight the eye with the lightest color shadow shade. Flat and rounded to highlight up under the brow and wide to highlight across the eyelid. Place brush on its side and highlight lid with shimmer pot down the center to create a rounded wet look.
Step 4. Liner brush: fuller than most liner brushes, this brush makes it easier to line and provides more control for beginners. Line beneath the bottom lower lashes ½ way in (use brown for a softer look). Line the eyes with the black shade ½ way across the lid sweeping up at the side into the crease for lift. Leave the corners open and highlight in between lines with white pencil. Our synthetic liner brush can be used as a concealer brush to cover blemishes to perfection.
Face Brushes:
Step 5. Cheek brush: Is for flushing on the apples of the cheek and contouring along the cheekbone. Flush with red toned cheek shade. Tap brush first to remove excess cheek color. Smile and apply cheek color to rounds of the cheeks blending slightly up onto the cheekbone in the shape of a teardrop. Contour with a pink/brown neutral cheek color. Begin at the center of the ear blending under the cheekbone towards the base of the nostril. Place two fingers out from base of nose and stop contouring at fingers.
Set make-up:
Step 6. Powder brush: Use with loose powder to set foundation and control shine. Tap excess powder back into lid and apply in downward strokes (the direction facial hair grows) for the smoothest coverage.
Brush Care
With regular use wash brushes every two weeks with shampoo, gentle face wash or dish washing liquid. Swish through warm soapy water to clean. Do not soak as the wood handles will swell and the brush hair can fall out. Rinse with clean water.
Tap off excess water onto towel and lay flat to dry on towel. Minimum dry time is 3 hours. Exposure to sun will quicken dry time. Do not dry brushes standing up as water can pool in the base where our brushes have been hand tied and cause rotting.
Store brushes in a fold out brush bag envelope or mesh bag where air can circulate to keep them fresh. Avoid storing in plastic individual cases and only do so when carrying in a purse or tote bag separately.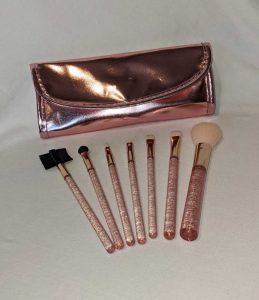 Steps for LIMITED 8 Piece Brush Kit Special the brushes use are listed here left to right.
Brow/Lash Groomer– brush out and smooth brows/separate lashes.
Sponge Tip Blender– blend shadow edges and mistakes for seamless polished look.
Lip Brush- even out lip color and lip pencil for smoother effect or gloss.
Eye Liner Angle– Use wet or dry to line eyes or apply darkest eye shadow shade in outer eye corner.
Rounded Eye Brush– apply Define eye shadow (brown or burgundy) in outer corner and slightly above crease half way across, Swipe on tissue then apply Balance eye shadow shade across eye crease blending in define shade and onto eye bone to warm.
Large Rounded Eye Brush– apply Highlight lightest eye shadow shade under eye brow arch and onto eye lid.
Large Rounded Cheek Brush– Apply to rounds of cheeks for flawless flush.