Natural Makeup Look
Want a natural makeup look for everyday? Here is an easy, ten minute face to keep your looks up and your stress down.  Perfect for those who want to look completely natural, yet polished. Click on highlighted products to view.
Step 1. Prepare your canvas. Wash, Tone, Moisturize. These products will keep your skin looking beautiful.
Step 2. Apply a small dab of foundation just where you need to cover a few imperfections (around lips, nose, on spots.) Try MODE DION oil-free foundation for healthy flawless coverage and no breakouts!  Our Mineral Makeup can be used for those that want a natural (real skin) look.  These protect skin from the sun with an SPF 15, are completely pure, will not cause breakout even on the oiliest skin types and create a slight glowing complexion.
Step 3. Pat and blend concealer. Try our Light or Medium Amber Concealer on under eye circles and pat foundation onto eyelids. This will create a fresh, rested look.  Our 5 Color Pro Pallet Concealer has every color you need to not only conceal imperfections but to add a little healthy bronzer color to the skin for a sun kissed look and contour shade to enhance features.
Step 4. Powder face and eyelids to create a smooth, long lasting finish. MODE DION Face Powders go on clear to create a natural, flawless finish and are oil-free to prevent shine and breakouts. For purists that want a all natural powder try our Mineral Face Powder. These provide light coverage, look natural, have a SPF 15 for sun protection and are oil-free.
Step 5. If lips are narrow or small and need filling out, shaping or a more defined lip line, correct with a lip pencil in the same color of your lips.  Our Natural or Deep Natural lip pencil create the perfect natural looking lip line.
Apply a sheer lipstick that has a little shimmer in to add life to the face.  Light to medium, sheer tones look best with a natural face.  For natural soft lips use the pink lip shade in our Pretty N Pink Recital compact or Rhubarb Lip Stain but just pat the color on lightly with your finger then top with a clear lip gloss for shine or use our Shimmer Cream Pot at the center of the upper and lower lip for a little shimmer.
Step 6. Dust apples of the cheeks with cheek color in same undertone (warm or cool) as lips, and apply slightly above crease, across eye bone. Tip: To find the apples of your cheeks, smile.  The round balls of your cheeks are the apples.  To avoid applying too much cheek color, after it's on the brush, shake off the excess on a tissue before applying to your cheeks.  Our cheek colors in Contour shades  softly or add a little more color with soft flushing pink like the cheek shade in the Pretty N Pink Recital compact which is perfect to wear high on the smile rounds of your cheeks without looking made up.
Step 7. Highlight with a little Shimmer Cream Pot under brows, on eyelids, inner eye corners and cheekbones this will brighten and whiten eyes as well as add radiance to the skin. Tip: For a more natural look, use shimmer powder in your skin undertone.  Choose in your compact between Moon Gold for brown or green eyes and Stardust for blue eyes.
Step 8. Define brows to shape eyes and adds balance to the face. See how to shape, arch and define brows here.
Step 9. Our Mascara has a lash curling formula to hold the curl along with a conditioning treatment to help lashes grow and look fuller. Use an eyelash curler, curl lashes and apply mascara in black to draw focus to eyes.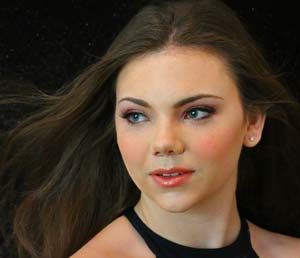 Tip: For perfectly curled lashes, try the double squeeze.  Place the open curler on the upper lashes down by the roots and hold your lashes between the two rims. Squeeze gently for five seconds.  Release the curler and move it slightly toward the outer upper lash area, then repeat the process.
Enhanced Natural Look is perfect for interviews are when you want to look a little more dressed up. Use the Pretty N Pink Recital compact again for shading in the outer eye corner with Define, adding color to the eye bone with Balance and lifting/brightening under brow arch and lid with Highlight colors.  Our 5 Color Pro Pallet Eye Shadow Compact works great too!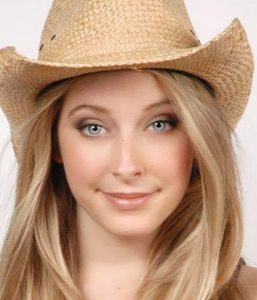 Natural Makeup step by step