Whether you are a costume manager, studio owner, director, coach or group organizer Mode Dion offers bulk discounts on bulk orders.  With bulk orders you just don't get a great DISCOUNT!!!  You also get Mode Dion custom makeup services including designing looks for themes! Please call (760) 837-9433 or christine@modedion.com to request details on discounts for product orders of six or more. When ordering online:  When ordering online for BULK DISCOUNTS choose MONEY ORDER as payment at check out and in Comments state "Bulk Order Discount" so your total can be adjusted.  Credit cards entered will be charged!
Makeup Kits that help your performers look uniform while providing quality, affordable, easy to apply makeup for stage.
These kits were created with extensive research into current professional performance make-up color trends and application. Special attention was put into versatile color combinations for multiple costume changes as in a competition performance. The color combination chosen below is our primary and most popular make-up kit. These colors go with every costume and can easily compliment and transform into any theme look, even a cat face!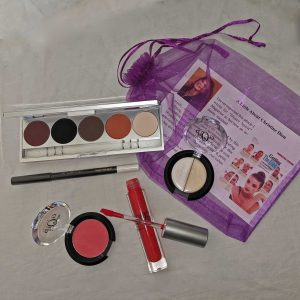 MODE DION Professional Stage Makeup Kit

All of our products can be discounted when ordering in bulk.