My Recital Makeup Compact Step by Step
My Recital 5 Color Eye, Cheek and Lip Compact is an easy and affordable all in one compact stage makeup look. Keeping your makeup application uniform and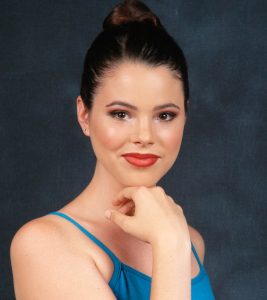 polished is very important and truly improves the overall look of the show. Follow these simple steps and you will always look your very best on stage and on camera.
Begin with clean skin that is lightly moisturized. We have excellent organic skincare designed for the special needs of performers. Click here for Skincare Tips. A step to save time in clean up is to apply foundation, concealer and powder for flawless skin after the eye shadow application so let's begin there. Be sure your eye brows are defined, arched and extended correctly. If you need help with your brows click here How To Do Perfect Brows.
Step 1.  DEFINE- On the bottom of your compact find listed the colors and what they are used for. Be sure eye lids are not wet or oily. To keep eye lids fresh and dry use face powder first over lid from lash line to brow. Begin with the brown shade DEFINE and apply to dry lid in the outer eye corner, blend just slightly above the eye crease  blending half way over. See diagram for correct application.
Step 2. BALANCE- On the bottom of the compact is the warmer eye shadow tone. This shade is applied across the eye bone from where brows end and towards where brows begin. This color creates balance to the face so from a distance makeup looks more natural and helps balance the eyes to the lips to the cheeks. Apply this color softly and really blend in the edges into the brown DEFINE eye shadow shade for a more polished look. Be sure to leave a clean space under the eye brow and at the center and inner corner of the eye lid for the HIGHLIGHT shade next.
Step 3.  HIGHLIGHT- On the bottom of the compact is a soft shimmer color perfect not only for the eye highlighting but can add highlights to cheek bones, chest bones, shoulders, even the center of lips. Use this color just in the inner eye corner, across half of the inner eye lid and under the eye brow to create lift to the eyes and help them stand out open and bright under stage lights.
Step 4. LINE– Using a Pointy Eyeliner Brush with a tip wet with a little water stir into the brown DEFINE eye shadow shade to create a creamy liquid eye liner. Line outer corner of upper lid sweeping slightly up and below lower lash line sweeping slightly out and up as well. Be sure the lines do not meet.  These lines applied open and slightly up will lift the eye and keep them open and wide to look larger from a distance. See our popular Eye Liner Brush to make lining easy.
Step 5. CHEEK- Be sure your foundation, concealer and powder are on for flawless skin. If you are not sure how to do this click here for a tutorial on how to use Foundation, Concealer and Powder for flawless skin. Adding color to the face brightens and prevents a washed out appearance from a distance. On skin that has foundation, concealer and powder and using a small blush brush go to the red CHEEK shade in compact and swirl into color. Tap off excess onto a tissue to prevent too much color. Smile to create cheek rounds or apples to the face and apply cheek color there in light strokes blending up towards the ear. The shape of the cheek color application should look a bit like  a tear drop not too round and not a straight line or block of color.  For more detailed steps and video on cheek color application click here.
Step 6. LIP- color is easy to apply using a Lip Brush or sponge eye shadow applicator. Be sure to cover entire lip with lip color not forgetting the sides of the mouth and the bow at the top.
Add an 8 Piece Brush Kit with a Blush/Highlight brush, Lip brush, Brow/Lash brush Eye Liner brush, Blender sponge tip, Define and Balance brush with elegant sparkling handles. Beautiful matching envelope holds each brush in a chamber with a plastic guard to protect brushes and keep them clean.
The perfect Beauty Treat for your makeup box only $13.99 MORE!!!  Limited time!  Click HERE for details.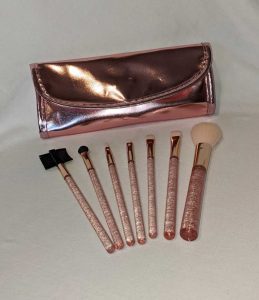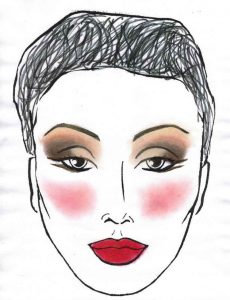 Be sure to check out MY FIRST RECTAL Compact for ages 3-6 too!
Two compacts for all your recital needs.