STAGE FOUNDATION STEPS "FLAWLESS SKIN"
How To Create Flawless Skin
By Christine Dion
Stage foundation, concealer and loose face powder are essential tools for a polished flawless stage face. The preparation, application and color chosen will greatly effect your total over all makeup look. Click on highlighted products to view.
Help Looks Stay Fresh:
Every artist knows it's important to prep your canvas before you paint a masterpiece. This means to achieve long lasting polished looks you must first prepare your skin.  Wash, Tone and Moisturize before you apply your foundation. Skin that is not properly prepared will absorb the foundation causing a faded look along with uneven, shiny, blotchy looking skin .  Mode Dion's "Love Your Skin Naturally" skincare products are organic, natural, smell heavenly of lavender and are infused with love. Make sure under eyes are clean of eye shadow (try non oily eye make-up remover pads like our Cucumber Wipes) and moisturized.
Even Out Skin Color:
Apply foundation in a yellow/golden undertone to correct facial redness from performing. Mode Dion Stage Foundations all have yellow tone color corrector to help foundation look more natural under both bright stage and sun light. These are also oil-free to slide on silky and heal problem skin. Apply to center of forehead, down sides of the face to cheeks, to sides of nose and around nostrils, around the mouth and onto lips, chin, jawbone, then finally blend out what's ever left onto throat. Blend in with clean fingers gently using downward strokes. The hair on your face grows downward so this method gives you the smoothest, most even coverage. Youth performers (under 10 years of age) still need foundation, concealer and powder. The forehead, cheeks and chin are most important to control facial redness. Not applying the canvas will create a blotchy face on stage. SAVE with our Discounted Foundation Kit.
Conceal:   Either a single shade Concealer or try our 5 Color Pro Pallet Concealer for a more professional application to highlight, contour, warm and conceal imperfections. For professional make-up application use a small synthetic flat brush to apply the concealer over key dark areas. Look for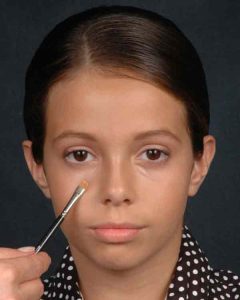 shadows by the inner eye corners and under eye darkness. Tip: Choose a color slightly lighter than your foundation. About ½ a shade lighter. Concealer is applied after foundation due to the fact that foundation melts the concealer when applied on top taking away some of the coverage.  Learn the tricks to using your 5 Color Pro Concealer Pallet to cover, warm, contour and highlight your features HERE.
Set To Last:
Be sure to set the canvas (your freshly applied foundation) with loose face powder. If prone to shine, choose an oil-free loose powder formula like our Translucent Clear Face Powders. Using a powder brush tap excess powder into lid then blend powder across foundation in downward strokes to set. Do not apply much powder under the eye area due to the potential for dryness and creasing. Tip: For a super set apply powder to a puff or cotton square and press powder into foundation gently all over to set. With a clean powder brush buff off excess powder and smooth out the finish.
Quality Artist Makeup Brushes are vital for perfect application and a  polished stage face.
For everything a Performer needs to know about skin and body care, professional stage, photography and every day beauty see Christine Dion's book "HIGH PERFORMANCE BEAUTY". 
SEE HERE FOR MORE TIPS ON Style, Poise and Professional Manners
Don't miss Christine Dion's book "RISING STAR SKILLS To Empower And Achieve". Also Available in Kindle on Amazon.com