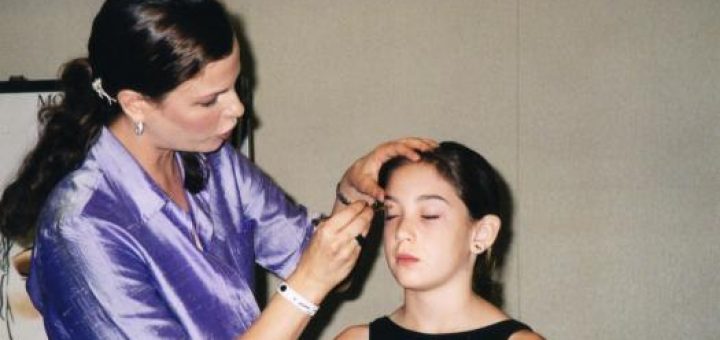 MODE DION goes "on location" to your studio,theater or gym. Make Up Classes "ala Mode". Christine Dion and staff come to you anywhere in the country and conduct a customized professional make up workshop just for your performers! Improve your presentation and increase confidence. Performers will look professional, be uniform, and specialty costuming will be brought to life with easy "quick change" theme make-up. Create your own signature look and be unique! This class is excellent for all ages and a strong focus on inner radiance, nutrition, hygiene, skin and body care will provide a valuable education that will enhance every aspect of their lives.
Learn To:
Create "A Professional Polished Stage Face" as seen in Christine's beauty columns in Dance Spirit Magazine and her book "High Performance Beauty"
Apply beautiful stage make-up like a pro and add star appeal.
Choose colors that are current industry trends, judge approved and age appropriate.
Know the difference between youth and adult make-up application.
Learn artistry techniques to shape and open eyes, define brows, apply false lashes, create perfect lips, enhance features, correct flaws & the professional tools that make it easy.
Design theme make-up looks that dazzle, bringing your drama and excitement to your performance.
Beauty advice to prevent skin problems, create radiance, increase health and more!!!
Mode Dion offers "in studio" classes and workshops so every performer can look their very best! Class attendee minimum is 25 based on location.
Learn powerful Star secrets to shine on the stage, on camera and in life.
Customize a one day workshop to a four day camp. Click here for more info.
For more information on workshops and camps call Christine Dion: (760) 837-9433 or email christine@modedion.com