Tribal Beauty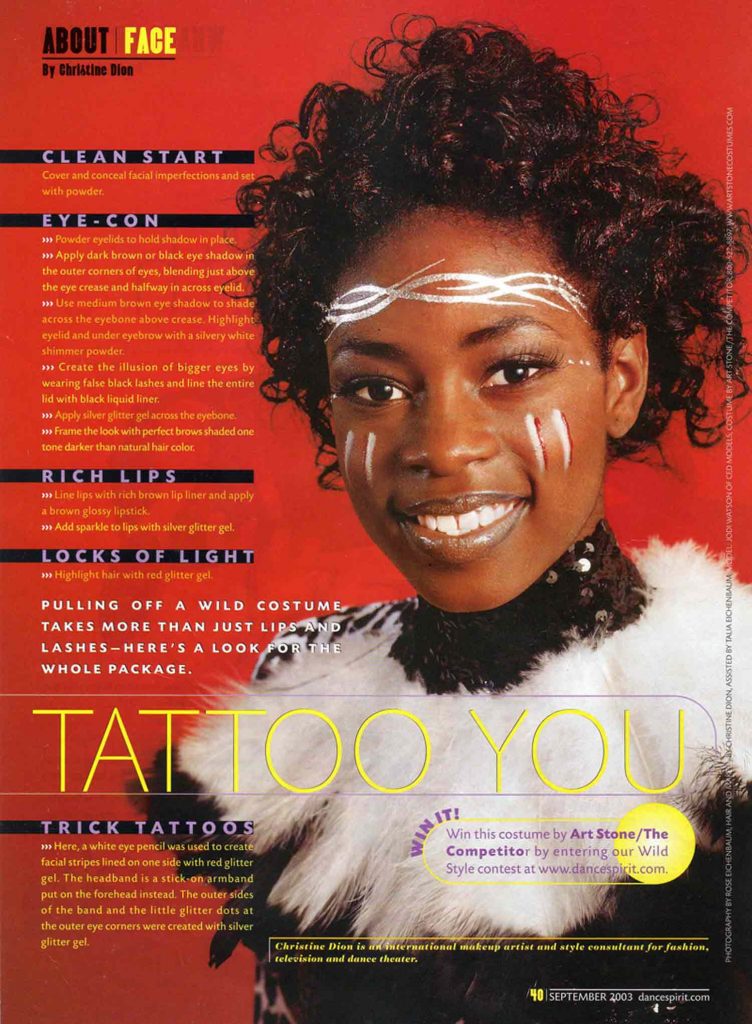 Tribal Beauty for jungle themes.
This article created for Christine Dion's Beauty Column in Dance Spirit Magazine brings to life traditional tribal culture makeup with a twist. For Jungle Book theatrical themes or any Tribal Dance that requires a Native Tribe beauty look. Get creative with this makeup and play with elements of nature.
Eyes-Powder eyelids to hold shadow in place. Using Pro Pallet Eye Shadow compact apply dark brown or black eye shadow in outer corners of eyes blending just above the eye crease for lift and half way in across eyelid. Use medium brown eye shadow to shade across eye bone above crease. To highlight eyelid and under eyebrow use Shimmer Cream in Stardust. Open eyes with false black lashes and line entire lid with liquid liner or black eye shadow made wet and liner brush. Add a little magic to the eyes with Silver Glitter across eye bone. Lastly frame this look with perfect brows one shade darker than natural hair color.
Face- Cover and conceal facial imperfections where needed and set with powder. Our Foundation Stick, Concealer and Powder discounted kit does it all.
Lips- Line lips with rich brown lip or eye liner or use the brown eye shadow shade made wet and applied with a liner brush. Apply Rhubarb Lip Stain or just some gloss. Remember lips should be on the natural side. Add more shine to lips with Silver Glitter or Shimmer Cream Pot.
Tribal Paint– This ceremonial look is African and went well with the costume. Research tribal looks and create your own. We used the White Eye Pencil to create facial stripes lined on one side with red glitter set with gel or use our Brush On Eyelash Glue. The headband is a stick on armband. The outer sides of the band and the little glitter dots at the outer eye corners were created with Silver Glitter or use Rhinestones.
Hair- The hair was highlighted with red glitter and set with hair spray. Cosmic Spray our "out of this world" Glitter Spray to add more shine to hair and body.