Whether you are a costume manager, studio owner, director, coach or group organizer Mode Dion offers bulk discounts on bulk orders.  With bulk orders you just don't get a great DISCOUNT!!!  You also get Mode Dion custom makeup services including designing looks for themes! Please call (760) 837-9433 or christine@modedion.com to request details on discounts for product orders of six or more. When ordering online:  When ordering online for BULK DISCOUNTS choose MONEY ORDER as payment at check out and in Comments state "Bulk Order Discount" so your total can be adjusted.  Credit cards entered will be charged!
Makeup Kits that help your performers look uniform while providing quality, affordable, easy to apply makeup for stage.
These kits were created with extensive research into current professional performance make-up color trends and application. Special attention was put into versatile color combinations for multiple costume changes as in a competition performance. The color combination chosen below is our primary and most popular make-up kit. These colors go with every costume and can easily compliment and transform into any theme look, even a cat face!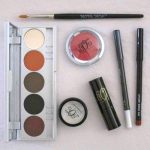 MODE DION Professional Stage Makeup Kit

Rich, high quality pigments can be used wet or dry and stay fresh through perspiration and heat.
Includes:
5 Color Pro Pallet Eye shadow/eye liner compact containing two different defining shades classic Brown and Cool Burgundy Plum for maximum versatility. Used wet or dry as eye shadow and eye liner. When applied wet, they dry instantly on the skin, no running! Eye Liner Brush for professional eye lining. White Professional Pencil opens eyes and is a stage must have. Stage Red Cheek Color gives a perfect not too bright flush to cheeks. Choose deep stage red for dark skin tones. Lip liner in Russet to define lips in a toned down red/ brown. Choose Hot Tamale lip liner for dark skin tones. Lipstick in Stage Red. The perfect red under lights. A judges favorite. Or choose Rhubarb lipstick, a sheer burgundy red for a more natural look perfect for Lyrical or ages 10 years and under.  Shimmer Pot Highlighter for eyes, cheekbones or any place where a soft shimmer highlight is needed.
Mini Stage Makeup Kit
Mini Stage Makeup Kit that has the same options as above without the White Pencil and Shimmer Pot.

Don't forget Make-up Brushes for application perfection are available at special prices!!!!
Six beautiful sable and pony brushes held in a durable envelope pouch with many compartments to hold supplies. Each brush has what it's use is on the handle and offers every brush needed to complete a polished performance stage face.
                                                                                                                                                                                                                       Foundation Kit For the most polished looking performance face foundation, concealer and powder are a must.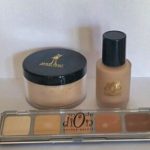 Foundations are long lasting, oil free and golden under toned for professional use under lights. Six colors available.
Professional 5 Color Pro Pallet Concealer has every color needed to conceal, correct, contour and highlight for every skin shade.
Oil Free, matte long lasting Translucent Face Powder comes in four colors.
Match your students in the best quality, color perfect make-up available. Beautiful on stage or for every day. Keep the whole set at your studio at a special wholesale price or ask for our free tester kit.                                                                                                                                                          
 Glitter Kit Every tool you need to add sparkle and glitz!
Cosmic Spray, Glitter spray for hair, body and costume (a favorite!). Comes with gold and silver glitter combined together for ultimate versatility. Adds glitz to every hair color, skin tone and costume shade.
Stage Glitter. Stage grade pure glitter. We do not add powder filler for the ultimate sparkle. Choose between Silver, Gold, Crystalina (Opal), Ruby Slippers, Sangria (fushia), Pretty N Pink (baby pink)
Diva Glue. Brush on super seal spirit gum designed for the face. Holds glitter in place.
Bulk Lipsticks are Available too!!
Stage Lips: A sure way to keep your performance groups color coordinated.
Choose from Stage Red or Rhubarb.