Makeup Stencil Design
Using a Stencil from your local craft store you can create magical designs. Find the design you like on a stencil. Lay down stencil against skin. With your liner brush wet from water stir into the color desired from the Pro Pallet eye shadow compact or Pigment Paint. Paint the color inside the stencil. Try your favorite color Mode Dion Stage Glitter to highlight edges or enhance color, even use alone.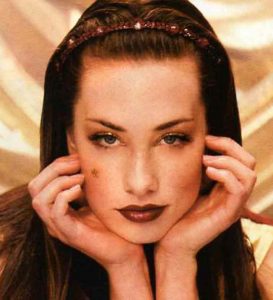 To create a glitter look like the small gold star place star cut stencil against skin, applying a little Diva Glue in the star then pat on top our beautiful Gold Glitter. Make all sorts of fun designs this way.
See the looks in Christine Dion's Beauty Columns from Dance Spirit Magazine here!