Soft Stage Makeup Look
This look is perfect for Modeling, Pageants, Folk or Ballet Dancing and Ice Skating.
Sometimes you might need a softer performance face. Your stage may be outdoors or a smaller stage. You might need a Pageant, Ice Skating or a Modeling look. These tips will help you look polished and professional yet more natural than a Classic Stage Face.
The application is the same as a standard classic stage face the only differences are:
EYES- Line with Professional 5 Color Pro Pallet Eye shadow Compact using the Define eye shadow dry for a softer line and meet at the outer eye corners (for larger stages this is left open).  Burgundy Define 2 in the Pro Pallet is a perfect softer shade to define. Apply the Balance Terracotta eye shadow shade onto the eye bone blending in seamless and the Highlight eye shadow shade onto the lid and below the brow.  Apply White Pencil along lower lid ridge to open and brighten eyes.  I added a tiny bit of Crystalina Glitter on the outer eye bone to add a little glamour.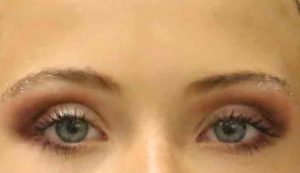 FOUNDATION- Make sure skin is flawless. Be sure to use enough concealer under the eyes to prevent shadows and under eye darkness. Click here for more Flawless Skin tips.
LIPS- Use a lip Pencil with a natural tone. A pinky brown lip pencil like Mode Dion Natural Lip Pencil. Keep lips bright use either red like Stage Red lipstick or Pink from our Pretty N Pink 5 Color Compact. After applied smudge lips with your fingertip so the color isn't as opaque/strong then top with Shimmer Cream pot in either Moongold or Stardust at the center of the upper and lower lip.
CHEEKS- Apply cheek color softer than for stage with a focus high on the rounds of the cheeks. Depending on your lip choice if pink use cheek in our Pretty N Pink 5 Color Compact or if Stage Red lips use Stage Red cheek color.