How To Take A Great Headshot
There is nothing better than doing what you love and getting paid for it. When it's time to take your talent to the next level, a professional head shot will be needed to present on agent interviews, auditions and casting calls. Knowing how to apply makeup that brings out your best in camera light and pose for the photographer will help your photo shoot be a success. Most dancers perform in commercials and stage shows which usually requires a head shot that shows the "real you". This is not a character, fashion, glamour or dramatic look.
MAKEUP– Go soft in application and use matte colors so you shine through. Skin should look flawless in tone (see steps for Flawless Skin), brows well groomed (see Perfect Brows) and make up seamlessly blended to look polished. Remember the head shot is a close up magnifying your look.  For a step by step on the perfect easy to apply Photography Makeup for Head Shots including a how to video click here. 
HAIR– Avoid a new hair style or color before a shoot. Be yourself. Hair should be away from the face and not distract from the head shot. It's your face that needs to stand out not your hairstyle. Try a fan blowing hair gently away from the face to show cheekbones.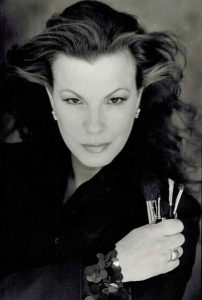 PREPARATION– Before the shoot make sure to treat skin to reduce pore size and prevent breakouts.  For tips on achieving Perfect Skin click here. Whiten teeth and get lot's of rest. Exercise before a shoot can provide a nice glow. Be sure to avoid salty foods and alcohol the night before to prevent puffiness. Take off glasses at least a half hour before shoot to prevent marks around the nose bridge.
WHAT TO WEAR– Watch for clothes and jewelry that distract, unflattering necklines, poor fit and logos. Clothes need to flatter your upper body. Avoid stripes, prints, whites, brights, rhinestones and sparkles. Bring variety of necklines, collars and textures. Blue is a great go to shade as well as colors that flatter your skin tone and eyes.  Black is good for more dramatic looks especially for black and white photos but should have a little texture or sheen to the fabric to avoid a flat look.  Whatever you choose be sure clothing looks new, is ironed and lint free.
POSING– The biggest complaint from photographers and casting agents is the lack of energy or "life" in the eyes of the subject. It's all about the eyes. To get your eyes to light up try looking down and then with intensity up into the camera. If you begin to loose the feeling look down and then up again. This is also helpful when bright lights are in your eyes from reflectors or sunlight, tools often used by the photographer to give a nice look to your skin. Study magazine poses. Practice in the mirror reviewing your best facial position and smile.  Be sure to avoid creasing the eyes to tight when smiling. Breath, relax, love the lens by showing emotion in the eyes. Keep mouth relaxed and move your face around slowly to show your jawline creating an angle to the face. Straight on looks are best when the chin is slightly down and  slightly forward (avoids the double chin). Move the shoulders slowly when shooting and remember posture. Avoid the chin too high which draws attention to nostrils and the chin too low which increases dark eye circles. Angle lower body away from camera with the upper body straight to camera.
ATTITUDE– Professionals look polished, follow instruction well, have a great attitude, are prepared and respectful. There are photo studio rules every one should follow. Keep your items together and respect the space. Bring snacks and water as many times you are there longer than expected. Don't step on the backdrop unless instructed. Listen to the photographer and follow their lead.