Classic Stage Makeup
Whether your a performer who dances, sings, presents in pageants or just needs to look beautiful under stage lights, you will need to understand the steps for a polished stage makeup look.  To simplify the application training we have presented these steps in short tutorials. This look is based on products found in our Mini or Pro Kits.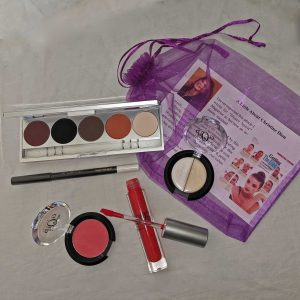 To use the steps for the very best results please follow them in this set order. Just click on the highlighted steps to see the full instructional. Enjoy! These steps will help you get started.
 Begin with good skincare.  Click and follow the steps as every professional artist knows that before you paint a masterpiece you must first prep your skin, the canvas, for the best results.  This prevents your facial makeup from fading and keeps your looks fresh. See all of our wonderful all natural, organic skincare products here.
Be sure your Brows are shaped, defined, arched and extended.  Click Step By Step Perfect Brows will help you create the right frame for your eyes and with that will provide the guidelines for correct eye makeup application.
After brows are in check it's time to Click Stage Eyes Step By Step. Note this is done before the foundation, concealer and powder as eye makeup application does create a mess with eye shadow fall out. When eye makeup is complete a quick under eye clean up gets you ready for that next step.
Step 4. Foundation/Concealer/Powder
After eye shadow is applied be sure to clean up any mess from the application under the eyes. Now it's time to Click Stage Foundation Step for Flawless Skin. A very important step to insure a polished stage face.
Click Stage Lips step will help you define, shape and color lips. This step is best done before the cheek color as it will help balance your features and prevent you from applying too much cheek color.
Step. 6  Cheek Flush and Contour
Click Stage Cheeks step will show you how to flush and contour to enhance your features and prevent a "washing out" effect under stage lights.
False lash application is often forgotten but a key eye opener. Click Step By Step False Lashes to show you how to cut, stick and care for your lashes.
Be sure to check out the right tools to use in How To Use Your Makeup Brushes Like A Pro and the Glitter Stage Makeup Step By Step for those times a little glitz can enhance your costume and theme.